Ahh the closing of another Summer. Technically I believe Summer goes to September 21 or 22, but let's be real, to must people it ends in August. I'm not usually super sad to see Summer go since Fall is my favorite season. But it's always a little bittersweet. 
I did my first "Current Favorites" post earlier this month, and I'm really liking the idea of doing it twice a month just to update ya'll on new things I'm loving. Maybe every other Sunday or something like that, we'll see!
1. Eat Pretty , Live Well: A Guided Journal for Nourishing Beauty, Inside and Out
I randomly found this book in a boutique in Dewey Beach and was instantly drawn to it. I had been on the hunt for a good food journal but this one took an interesting spin on it. Rather than counting calories, macros, and measuring weight, this journal is all about eating well for inside and outside beauty benefits. A bit vain? Probably. But ehh whatever. You can get it on amazon here!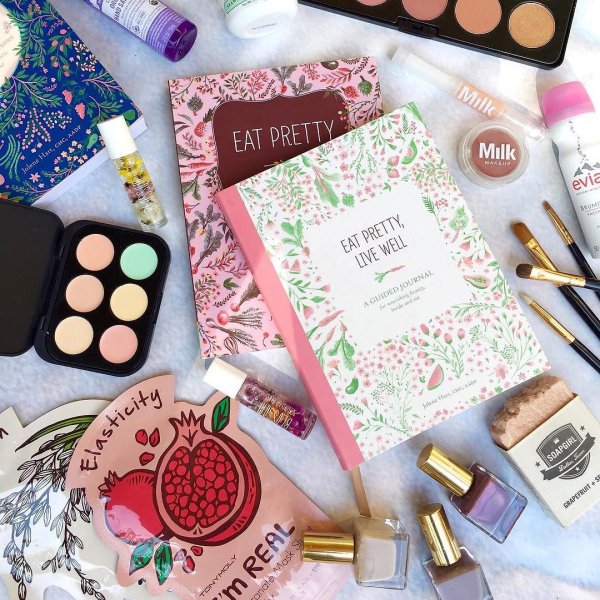 *found this image on google! it's not mine, though I love it
2. College Besties
I just had such an awesome weekend with my group of friends from college. I hadn't been back in Boston since March and I realized that's the longest I've gone not visiting! It was brutal, but my Summer was just too busy to fit in another weekend. We went to the Kenny Chesney concert on Saturday and it was UNBELIEVABLE!!! But I'm not surprised, his concerts always are 😉
3. Updating my morning routine
I a SUPER determined to give my morning routine a major makeover. First thing I need to improve on is my wake up time and snoozing. I want to make it my goal to wake up every day at 6am.
Here's my ideal morning routine:
6am Wake up
Bathroom trip
Glass of warm lemon water while browsing the news
Get dressed for work
Brush teeth, wash face, put on some makeup
Grab my prepacked breakfast and lunch, and head out the door
4. Monochrome fall fashion
While on the beach 2 weeks ago, I read a magazine with a "Fall Trends" spread. I LOOOOOVE Fall fashion so I was super excited to check out what 2017 has to offer. One thing that stood out to me was monochrome. The pic in the magazine was all about pink, and I have to say, I'm a fan.
After a quick browse of some of my favorite fashion sites, I found some serious monochrome-inspo that I'm really looking forward to try!
5. Pumpkin
Ok I know, it's technically still Summer. But I'm starting to think about what flavors I want to experiment with this fall. I've never really dabbled in the pumpkin area of cooking before, so I'd like to make that one of my areas of focus this year! Breads, puddings, cocoas, all that jazz but with a pumpkin twist. But I'll wait until at least mid to late September to start posting those 😉